Specific rotary encoder housings for special applications
Under extreme environmental conditions or mechanical influences, in applications that demand explosion protection or involve contact with aggressive media, absolute rotary encoders need specific housings that can withstand these stresses. Our housing options ensure the functionality of absolute rotary encoders even under the most demanding conditions.

Our housing with tropicalized "Seal Pack" option, for example, ensures leak tightness during temporary immersion (IP67) in water and in penetrating oils, and protects against moist heat and the entry of moist air. We also offer housings for heavy-duty rotary encoders as well as ATEX-compliant rotary encoders. Our absolute rotary encoder with handwheel and SSI interface offers a wear-free magnetic detent mechanism and extensive parameterization options.
All housing options for incremental rotary encoders at a glance: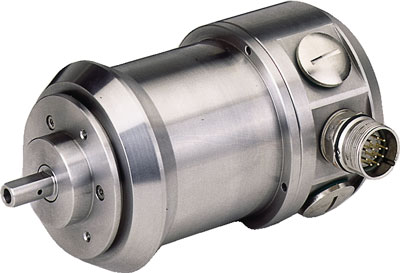 CEV-84
Protective housing for incremental encoders (size 58 mm) with solid shaft.
Type MP01 for application in aggressive media.

Concerning the technical features see the characteristics of the chosen encoder.
Series CE_84 in our selector