Intelligent compact drives
Voltage + fieldbus = positioning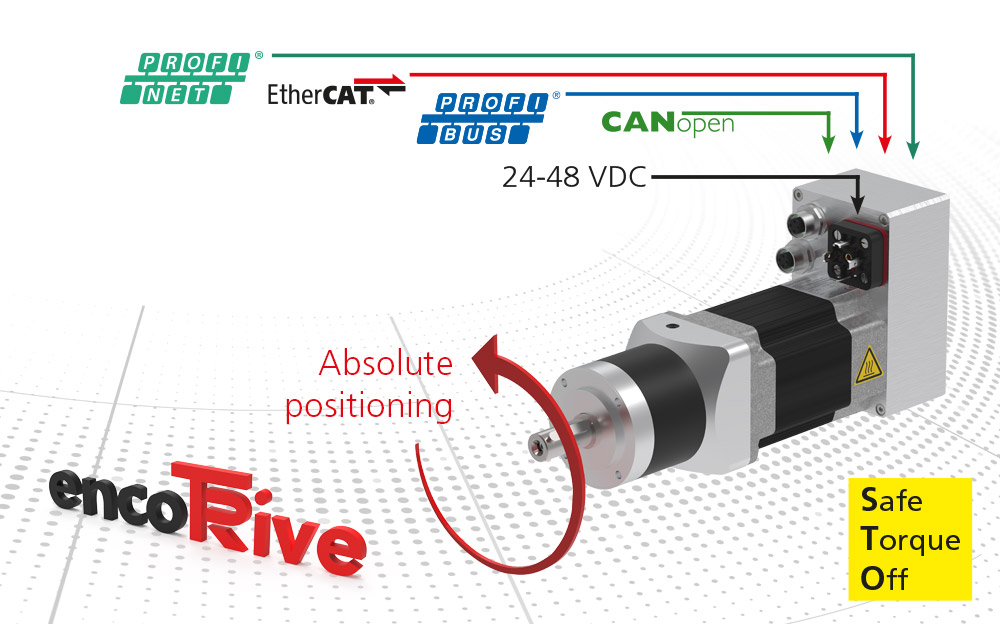 Power supply and fieldbus connection – this is all that's required to implement actuating and positioning tasks in your system with encoTRive compact drives. The concept of gear motor with integrated positioning controller offers numerous advantages:
Advantages for the switch cabinet
No space consumption and no heat emission by the drive electronics
Simple wiring
No EMC-critical motor cables need to be laid
Thanks to the extra-low voltage supply, all components and connections can be touched
Absolute position available at any time
No reference runs required
Reference initiators and associated wiring not necessary
Easy implementation of machine safety
STO (safe torque off) optionally integrated
Tailored to your application
Broad range of motor and gear variants
Wide power range from 50 to 400 watts
Assistance with selection and design by our drive specialists
Advantages for the application software
Control of different types identical within a fieldbus
Changeover or mixed operation between PROFIBUS and PROFINET possible with minimum effort
Example PLC projects available
Problem-free use overseas
Optionally available as a UL-Recognized Component

Tailored to your specific application
The individual series are designed for application categories. This means that drives with the optimum scope of performance are available for automation tasks with a wide variety of requirements. The control is identical across all variants within the same fieldbus interface. This saves time and effort in the development of your application software.
Positioning drive
EC (brushless), for frequent and dynamic movements
Learn more
Actuating drive
DC (brush), for occasional movements
Learn more
---
Interface
The encoTRive speaks many languages. It speaks the language of your control too.

---
Absolute encoder
Even if the drive is turned while de-energized, the absolute position is known as soon as the encoder is powered up again – battery-free, with a sturdy mechanical multiturn gear.
Positioning control
Simple to use:
Target and ramp parameters are preset using the fieldbus. Reliable positioning is handled entirely in the drive.
---
Power electronics
The necessary power commutation to move the drive quickly and powerfully into position is generated from the extra-low voltage supply.
Motor
Numerous motor sizes and variants are available to suit the wide range of applications. Whether brush motor or electronically commutated, with or without holding brake.
---
Gear
To consistently ensure the correct operating point, a wide range of gears with finely graduated reductions is available. Planetary gears - axial or with an angled stage - and worm gears are typical.
Safety
The safety functions STO (safe torque off) or SS1 (safe stop 1) are optionally integrated.

---