Encoders for measurement and control technology - since 1983

Expertise and technology leadership from the outset.
TR-Electronic develops, manufactures and sells sensors and actuators for industrial applications, primarily in automation technology. To enable the individual competencies to be focused more strongly, the company is organized into business units.

Products in the Rotary Encoders Business Unit with optical or magnetic scanning are required to detect the angular movement of a rotating shaft. Magnetostrictive linear encoders acquire the position of a linear movement - for example in a hydraulic cylinder - without contact. Intelligent compact drives from the Drives Business Unit are used as actuators or, in the high-end version, as process drives. Customized control and measurement modules in combination with special know-how in pressing and punching processes complete the program.

To ensure optimal customer proximity, in addition to its main location of Trossingen TR-Electronic has branches in Germany and subsidiaries and representatives worldwide.


2019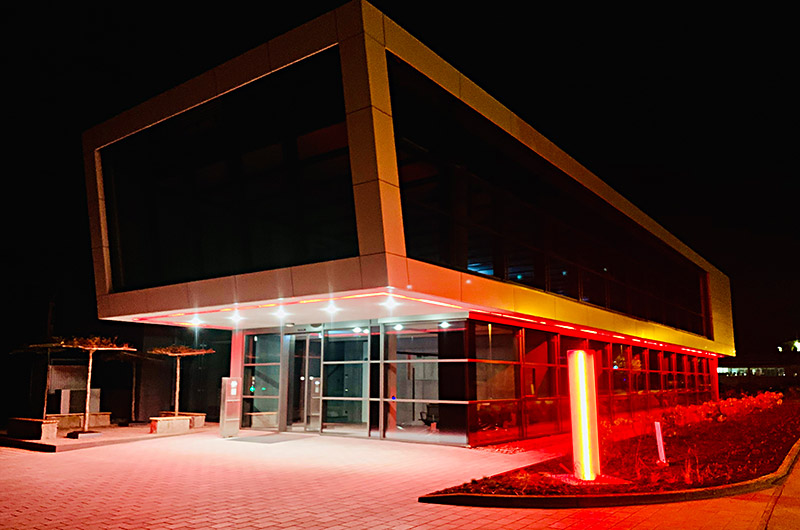 TR creates additional capacities for growth on the campus in Trossingen. The building "Im Sandbruch 1" gets a modern multi-purpose extension. The assembly area of me-tec GmbH (a TR subsidiary) will find new rooms on the ground floor, while the upper floor will temporarily be used for the development department of BU 02 (linear encoder) as offices to make room for the renovation work required in Eglishalde 6. The innovative functional building shows contemporary architecture and offers the latest equipment for flexible design of workplaces, be it offices or manufacturing.
2018
The success story of the encoders with functional safety enters the next round: The SIL / PL certified encoders are now also available in a compact 58mm size. Safe encoders therefore fit wherever standard industrial encoders can be installed. Functional safety is no longer a question of installation space.
2017
TR-Electronic develops the new generation of their compact absolute encoders. This provides a future-proof and powerful encoder system with all interfaces for Industry 4.0 for the industrial standard installation space of 58mm. The measuring systems are manufactured according to the principles of lean manufacturing with variable lot sizes. This enables highly individualized products with benefits tailored specifically to the customer.
2016
German "TÜV" accredits the TR environmental lab for examinations of vibrations, shock, EM, climate and water immersion behavior. Own tests for certification of components and devices are accepted by external certification authorities. Another proof of high value of own know-how for fast developments with high demands for quality.
2015
TR-Electronic improves sales and support activities in BeNeLux in a new subsidiary in Geffen, NL. The local presence in the European neighborhood helps accessing the quite different markets in Belgium, Netherlands and Luxembourg. The own subsidiary is another consequent step integrating European sales activities into the common strategy of TR-Electronic.
2014
TR supports the standardized data structure for safety approved devices by VDMA (VDM Standard 66413). Planners of safety functions easily find best suitable safety components for their applications in this database. By integrating openSAFETY via Powerlink into the SIL3 encoder series, TR takes another big leap for seamless safety integration.
2013
In 2013 TR-Electronic will presented innovative solutions and series: CEV58M – the new generation of compact rotary encoders with direct connection to Industrial Ethernet; CMV36M – the "Mini" among rotary encoders: absolute multi-turn with connection for automation via SSI, Analog or DRIVE-CLiQ, industrial PC with all-glass touch system.
In order to meet future challenges and cope with increasing demand, production and development capacities will be expanded by a further 3000m2 and 30 additional jobs.
2012
The introduction of SIL3/PLe-certified absolute rotary encoders with PROFIBUS safety via PROFIBUS marks the entry into Integrated Safety solutions.
2011
TR-Electronic geht neue Wege und erweitert die bestehenden SIL3/PLe-zertifizierten Drehgeber mit der Feldbus-Schnittstelle PROFIBUS safety über PROFIBUS.
2010
In order to further develop the Asian and Chinese market, the sales subsidiary TR-Electronic (Beijing) CO., LTD. is established in Beijing/China.

In the same year the LMC cascadable linear measuring system is successfully introduced onto the market.
2009
Introduction of the SIL3/PLe-certified rotary encoder series for use in safety-relevant environments.
2008
The two subsidiaries TR-Systemtechnik and UNIDOR merge to form TRsystems GmbH.

The drive technology product portfolio is completed with the new MP drive series.
2005
With its entry into Industrial Ethernet as new bus and interface technology, TR-Electronic clearly has its finger on the pulse of the times.
2002
The C 58 absolute rotary encoder family is introduced onto the market and becomes a bestseller.

The new, over 200m long laser reference measuring section enables the comparison of laser measuring systems with a reference system with absolute repeatability of +/- 1mm and speeds which are commonplace in high rack warehouses.
2001
The opening of the agency in Shanghai/China marks the company's definitive market entry in the Far East.
2000
TR-Electronic develops into a complete provider of rotary encoders and drives for automation technology. With its entry into the development and manufacture of compact drives, the product range sets new trends in the market.
1998
The company presents the first series of laser distance measuring devices based on the TOF principle, with which even longer distances can be acquired without contact, fast enough for closed-loop control and wear-free.
1997
The establishment of sales subsidiaries in France, the UK and Austria enable sales activities in Europe to be substantially expanded.
1996
The acquisition of the UNIDOR company for Sensor and Automation Technology, Pressing and Punching in Pforzheim extends the range of products and services to control and monitoring systems for pressing and forming technology.
1992
The establishment of subsidiary TR-Systemtechnik taps the growing market of industrial PCs for demanding automation tasks.
1991
The establishment of me-tec Präzisionsmechanik GmbH focusing on turning, milling and drilling strengthens know-how in prototype manufacture in particular.
1990
The new sales subsidiary TR Switzerland opens up access to the Swiss market.
1987
With the company's move to Trossingen and inauguration of the new building with 2000m2 of additional floor space, the course is set for future growth.
1983
TR-Electronic GmbH is established in Villingen-Schwenningen and concentrates on the development and manufacture of absolute rotary encoders for automation technology.